TySoul and Maine the Medicine announce the release of their collaborative project titled 'Medicine for the Soul.' The 14-track album features Popko, Sweetness, Daniel Rosler, Suspect, Lambo Lo, Paulie, and GTS.  Check out our latest interview detailing the album along with visuals for the leading single "Serenity."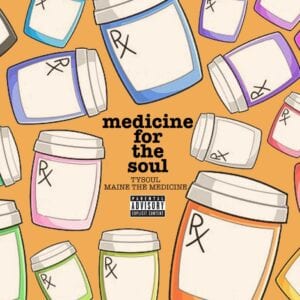 MJ: You hit fans with something different and innovative with this new album "Medicine for the Soul". You curated a captivating blend of R&B and Hip Hop. Talk about the album and the mindset behind creating it.
Stream/download "Medicine for the Soul" here on preferred platforms
TySoul: Both Maine and myself already collaborated on multiple records before this album, and everything we made together came out great. So, we thought, why not make a full project together, and we did just that. Myself being a Chris Brown fan, I wanted to add a new school R&B flare to the album, while having Maine add his old-school influences along with his amazing lyricism.
Maine: being from New York, Hip-Hop and R&B go hand and hand. Like Nas and Lauryn, Meth and Mary, Father MC with Jodeci, and the list goes on and on. We just wanted to bring that feeling back.
MJ: You enlisted an elite selection of producers for the album, with an incredible ability to orchestrate soundscapes that heighten the raw emotion and impeccable lyricism. Talk about that, as well as how you two linked up.
TySoul: We originally linked up nearly a decade ago from a mutual contact, we never collaborated at the time, but we did a few shows together. Years later Maine called me to come into JL Studios to do a hook for Mercy Gang and after that, it was a wrap…
Maine: We worked with a handful of producers including Know- it beats and Da Leadgeon who helped us blend that Hip Hop and R&B with today's twist. Plus, we both get busy with the pen!
MJ:  Was the goal of the album to expand your fan base by stepping out of the box? Was it to display your versatility as artists and your agility to steer in different lanes?
TySoul: I think both of us somewhat stepped out of our comfort zones for the better. I was able to experiment with a more commercial sound rather than the old-school R&B type influences that were prevalent in my first album "Two-Sided." I feel that we both displayed our versatility but also stayed true to our artistry.
Maine: I feel as an MC I should be able to adapt to any genre while still being me.
MJ:  What single off the album do you anticipate taking off both on charts and with listeners/fans?
TySoul: I think that "Addicted" or "Don't You" are two of our more heartfelt records. Both talk about relationship-based content but also have an upbeat flow and awesome production.
Maine: "Serenity" is going to make a statement because it deals with some crucial issues going on in the world now. "Addicted", "Old Thing Back", and "Move Ya Body" are extraordinarily strong records as well.
MJ: Take a minute to reflect and share anything else about "The Medicine for the Soul"
TySoul: This project personally helped me to experiment with rapping more. Maine pushed and encouraged me to spit a few bars, and I was able to rap a few good verses on this album. Even through this pandemic, we stayed motivated and in touch, which enabled us to finish this project strong and in time when we were able to return to the studio.
Maine: We want people and our fans to get that great feeling listening to our music. We're just trying to put authentic Hip Hop and R&B back on the map.
Special thanks to Dan Rosler, Amanda Rogan, Lambo Lo, Suspect, Gus, and Paulie…#RIPHefty
Watch "Serenity" featuring Sweetness and Daniel Rosler (off 'Medicine for the Soul' album). The empowering lyrics and serene images of unity and innocence in the video along with the soothing, soulful vibe and classic drums are sure to raise neck hairs and touch hearts worldwide.