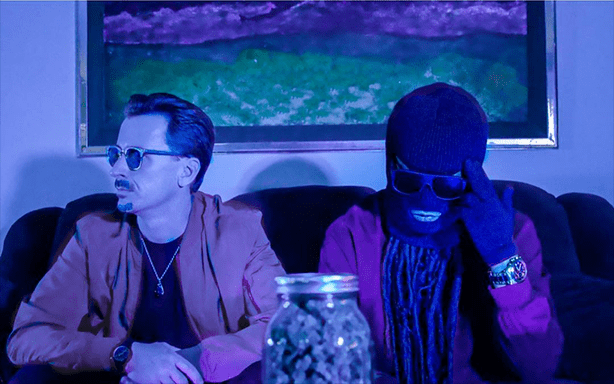 Hey Mili Milz & Ray Mitchell! Please tell us how many years have you guys been making music together? Where are you guys from? Most importantly, how did you guys meet?
Milz: Almost 23 years, started way back in 1999. We are from Fallbrook, California. Well we have known each other our whole lives, because we are blood brothers.
Ray: Haha yeah a lot of people don't know that we are blood brothers, due to the pigmentations of our skin. But yes we have the same Mom and different Dad's.
What separates you guys from all the other up and coming MC's and groups? And will this duo be long-term?
Milz: We are family and we don't give a fuck! It's for life Holmes! Till the wheels fall off!!!
Ray: Lmao sorry my brother is a little blunt. I think definitely being family separates us because we have that bond that you just can't get with someone you work with. So just to clarify as well, I am the producer and I write all the music. My brother writes the rhymes and is the lyricist. I really just started releasing songs with my name attached to them, because I want to be known like DJ Khaled. I don't want to be an unknown producer. I want to leave my mark on the world, I want Ray Mitchell to be a household name like Dr. Dre. Like my brother said yes this duo is for life haha! We will always work on stuff together, even though I will write tracks for other artists and he will write lyrics with other people.
You guys are extremely original and really put out a modern and edgy sound and style!!! Please tell us how you guys describe your sound?
Milz: I like to write songs with a mixture of all the artists that ever roamed the planets – from the beginning of time to infinity – we are all one – I'm you – you're me – my face is your face – my voice is your voice and I run with that!!
Ray: LOL my brother is a character till the end. Honestly, we are working on different styles all the time, so to pinpoint a description is hard. We are constantly trying to push the boundaries of traditional styles and mesh all the good parts of different genres together.
How are you guys coping with this whole Covid 19 situation? Has it delayed any new music production by any chance?
Ray: As for me it actually gave me enough time to work on my music more steadily. Before Covid I was traveling all over North America doing live production. I would work huge conventions with 50,000+ people doing different audio visual jobs. I was never home so that made it really hard for me to focus on my music. What it has delayed is being able to make the music videos that I want. It does make it easier to do guerilla shooting since the streets are empty, but if you want to have let's say a crowded bar scene or something, you would not be able to have that many people together in one place at the same time.
Milz: Staying the fuck away from people I don't know! While remaining humble with a mask and gloves lol.
It hasn't slowed anything down for me. I shot two music videos in the middle of the 2020 battle. If you're reading this, that means you're a survivor and we're now stronger than ever! P.S. I started a bad ass garden!!!
Tell us about your Hip Hop and/or music influences?
Milz: I grew up bumpin PAC ! WestSide for Life !! "Out here in California nigga,,we warn ya! Well bomb on you motha fuckaz!! We do our job! You think your mob, nigga we the motha fuckin mob!" I Love 2Pac !! He the realest G.O.A.T. !! Eminem a solid cat,,I would lock myself in my room every morning and no one was to bother me until I finished listening to the whole "the eminem show" album! I Love Em!! Been bumpin lil Wayne since he was a HotBoy.. my boy Dfrost would bring me cds of BM JR every time he came back from Louisiana, I Love me some Weezy!! Bone thugs, Ice Cube, Snoop..shit the first time I saw snoop I was 13 years old, my mom drove me to his concert in Hemet ca and waited for me in the car. I rolled solo – DPG for life! RIP Nate Dogg !! I Love the Love for all rap and hip hop period. Tech n9ne, Boosie Bad Ass, Soulja Slim, Mitchy Slick, Method Man, Shyne, UTP, UGK…the list goes on!
Ray: I also grew up with 2Pac, he was definitely a huge inspiration to me, he's the greatest rapper of all time, I don't give a fuck if people think different. As far as producers: Dr. Dre, Timbaland, Rza, Illmind, Kanye (before he went crazy), DJ Premier, J Dilla, 9th Wonder, I could sit here for days but those are probably the main hip hop ones. But I also write all kinds of other types of music so I will just leave it at that for this interview, and we can talk about more in the future.
Please breakdown the creative process of your guys latest single and video for "Nah Do".
Ray: Ok, I will speak about the creative process for the single and my brother can break down the video portion. I found a little snippet of a middle eastern-influenced vocal and I chopped it up. The "Nah Do" vox, sounded like she was saying "Nah Do", and I thought that meant "you know how I do", and then we just made it our saying and it worked. I made the instruments based on that as being the main piece. Then I sent the instrumental track to my brother and he wrote down the first verse. He then went to Cals and spit his verse to him, he said it was dope, so they recorded the verse. Then Cals came up with the first part of the chorus, "all day on the boulevard trynna get my paper up, these motha fuckaz baller blockin". Next Milz matched the rhythm and altered the wordplay, to come up with, "all night on the boulevard gotta get my fetty up, got them hataz watchin". Then Cals said, "nah do" and said it would sound good if Mili Milz said "my ni***". That's how the hook was made. Milz then wrote the second verse and the song was done.
Milz: After the song was made the message was pretty simple you see…"all day on the boulevard trynna get my paper up-these motha fuckaz baller blockin" "all night on the boulevard gotta get my fetty up-got them hataz watchin" .. We grabbin our stash..takin it to the Big Dog in the big house in exchange for some food..fillin up the trunk and dropin it off to the neighborhood..You "NAH" how we "DO" – NAHDO
Do you guys have a go to producer, or do you guys work with multiple producers?
Milz: My go to producer will always be my brother RAY MITCHELL. I do also work with PAPERTRAIL MUSIC and OUTTA CONTROL EUROPE.
Ray: My go to producer would also be Ray Mitchell he's the shit lol. Nah I'm just fucking with yah. I do write all my music so far, but I am starting to collaborate so I can bounce ideas off someone else. So far I have started working on unreleased tracks with my homie from Colombia named Cuz Zaid. It's been a good start so far, we help each other on our weaknesses which is great. He's good at drums which is my weakest link, and I work on the keys and melody. He's also an amazing guitar player so we have started working on that in our songs too. He's really a talented young individual and I look forward to releasing a bunch of collabs with him and starting a super producer group. We have a name in mind, but we are refining it a little and will release it to the world shortly.
Your honest opinion, out of all the songs you guys made together, which is the one song you guys feel stands out the most!?
Ray: So far out of the tracks that are released I would have to say, "My Friend" it's a dedication to our older brother that died about 3 ½ years ago. I came up with the piano melody when I woke up at 2am from a dream that I had with our deceased brother in it. When I woke up I had this melody stuck in my head, so I went and laid down the piano immediately. I believe it was a gift that was handed down to me from my brother. We just released it this month, so everyone should go check that one out too. It will relate to anyone who has lost someone close to them.
Milz: MY FRIEND – R.I.P. Brotha "David Vestol"
We have to ask, with all this social discourse and revolt, protesting and rioting, exposed police brutality toward blacks and BLM, how do you guys feel about this? We would love your guy's perspective on the climate we are living in right now?
Ray: At the beginning of this I really thought there was going to be a civil war, we were literally hanging by a thread. People of color have been getting the short end of the stick for far too long. It's finally time for a change. There is too much inequality in America, the rich continue to become richer and the poor become poorer. The income gap between the poorest and richest families has more than doubled. Wealth in this country is unequally distributed by race, especially between white and black households. One of the main reasons this revolt has started is due to our government's disconnect with it's people.
As a white male I acknowledge that I have privilege. My brother is part black and if we had the same exact skills and went to be interviewed, I would have a much higher chance of getting the job just because of the color of my skin. I think that's a bunch of bullshit, and this "social norm" is something that should have been fixed a long ass time ago. Our system has been broken for far too long and I hope all this social unrest will actually bring the change that we have been longing for.
Milz: "I think the worlds gone crazy" – Hailie's voice
You can't cage up an animal(s) for too long and constantly poison them and beat them before they decide enough is enough! They will strike back! They say revenge is a dish best served cold.. and oh it's a cold world! People are sick and tired of being sick and tired and now the tables have turned. Power to the People!!
Where can people find you on the web? Drop all the vital links.
Milz:
Instagram – https://www.instagram.com/milimilz760
Spotify – https://open.spotify.com/artist/2bFq8iEm45bD55xaUYWPcE
Youtube – https://youtube.com/channel/UC7xFrO9-5lyN1sznmptOviQ
Facebook – https://www.facebook.com/milimilz
SoundCloud – https://soundcloud.com/user-575483171
Ray:
Instagram – https://www.instagram.com/raymitchellmusic/
Spotify – https://open.spotify.com/artist/6ccjePGDEkgLA0qasKfpnU
Apple Music – https://music.apple.com/us/artist/ray-mitchell/1535873044
YouTube – https://youtube.com/channel/UCepZuRl1IgJ2N4ICZOcm5Hg
Facebook – https://www.facebook.com/raymitchellmusic
SoundCloud – https://soundcloud.app.goo.gl/Noxm1bDRqPV3QoUC7
Website – https://www.itsrayray.com/