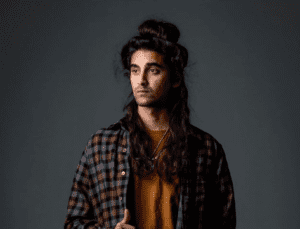 Bro Xenai!!! I would personally like to thank you for rocking with our website and most importantly pushing dope independent Hip Hop! Let me ask you how long have you been a Hip Hop artist?
Thank you for featuring me bro! I've been doing hip hop for close to 4 years now but I've been making music for more than 11 years, only, I was involved in different genres like metal, experimental, progressive, folk, rock and world music.
Being from Boston, where a lot of Hip Hip greats are from, Slaine, Kyle Bent, Termanology and many more!!, How important/influential is Boston to your music career!?
To be completely honest, I had to leave Boston just when I was getting more involved in the local music scene after living there for 6 years. Since then I've been traveling around the East, making music and hoping to get back to the States as soon as possible. Needless to say, Boston was the turning point in my music career. I started hip hop in Boston and the underground scene over there really influenced me to follow my own path and develop my skills as an artist.
Also, how did you get you emcee name?
Xenai represents my third culture background. The name is a derivation of my family name Shenoy. I won't get into the history of it but it represents the nomad in me who cannot identify with just one culture due to the fact that our people were forced to migrate from our home. As a result I continue to experience different cultures without feeling a sense of belonging to any particular one.
Let's get right into it, your latest single "Fool". Please breakdown the creative process behind it?
Fool is about a breakup that happened a long time ago but I hadn't been able to express it because of the lack of closure from it. It's about a girl I was dating who cheated on me for almost 6 months and I had no idea. Naturally those feelings built up and had to come out somehow and this was my way of accepting it and letting go.
I started writing this song with an acoustic guitar and a simple melody that was playing my head based on how I was feeling. As soon as I came up with the hook, the whole song poured itself out on my notebook and from there the production process started. At first, I had a beat from Boston based rapper and producer, El Arkitekt that I thought would fit perfectly with the song but the more we went through it, I realized I had to create a more raw vibe and eventually produced the beat myself with my laptop and a guitar.
We notice your style is super original and very creative. Let us know how your style is different than all the rap artists out there!
My style comes from my third culture background. Although I'm very much based in hip hop, my roots in Indian and Arabic cultures have greatly influenced my music and will continue to test my boundaries. The fact that I am a multi-instrumentalist plays a huge role in my production process. Some of the melodies in Fool, especially in the outro, are drawn from the way the Arabic lute "Oud" is played.
How do you go about writing and producing your material? What type of mood are you usually in when making music?
I'm very sensitive with my energies. If I'm feeling high or low, I'll make music reflecting that. Most of the time though, my energy is very high in the studio no matter how sad the song is lol
When it comes to making a song, sometimes I start with making a beat from scratch and as I'm feeling the vibe of the beat I'll start to write to it. Other times I'll have a whole song written out on my notebook and I have to bring out the right beat or produce it from the bottom up to reflect the song that was written. I enjoy this process a lot because it let's me explore a lot of sonic possibilities. Playing different instruments has helped me complete most of my songs without spending too much time and since I'm constantly creating new music, finding the time to mix and master my work is becoming harder.
Any upcoming shows to look forward to? Are you planning on touring any time soon?
All my upcoming shows have been cancelled but I am very hopeful that this situation right now will change for the better and as soon as it does I am ready to start performing again.
How have you been staying busy during the complete worldwide Covid-19 Corona Virus lockdown?
I can't go a day without working on music. I have a song coming out midnight tonight, May 9th called "This Never Happened". I have another song called "Everything is Fine" (based on what's happening in the world right now) releasing May 22nd and it's featuring India based singer and guitarist 'Shwe G'.
I have collaborated with Dubai and South Africa based singer-songwriter 'Lisa Goldin' on a song called "Hope" which has African influences.  I'm also collaborating with Argentinian rapper and producer, '4nalog' on a song that will release mid June called "Venas".  I'm also collaborating with LA based RnB artist 'Kanika' and Singapore based RnB singer songwriter 'NyaLi'.
How is social media playing a role in your success? How are fans/supporters helping your movement?
It's been great so far! My growth has been very organic and I am getting a lot more response and feedback with every song I drop! Currently as you can see, I'm focusing on collaborations with artists from around the world, and Instagram has been extremely beneficial for that!
With the "Fool" release, I had several artists and musicians doing the #foolchallenge on IG where they covered the song in their own way and I reposted their videos on my page. That was awesome!
With this being IndieHipHop.com, we always ask this important question. What is your definition of true "independent hip hop"?
Personally, I think hip hop is meant to break rules and keep evolving because that's how it started back in the 1970s. The power of this genre is universal and has made an impact worldwide because it allows people to express themselves. It lets them talk about their reality no matter how difficult their situation may be. I think true independent hip hop doesn't have a specific tempo or sound. If a rapper from India can use local temple folk rhythms and rap truthfully over it, it would still be independent hip hop to me.
Where can people find you on the Internet? Drop all the vital links.
Here!
IG: https://www.instagram.com/xenaimuzik
YouTube: https://www.youtube.com/c/xenaiofficial
SoundCloud: https://www.soundcloud.com/xenai9
Twitter: https://www.twitter.com/xenaimuzik
Spotify: https://open.spotify.com/artist/2ilhZgFOwXH3xDzWfPlVXF?si=4kyxBdd1TEie3WA-6OIDAg
Apple Music: https://music.apple.com/us/artist/xenai/1295750116
Any shout outs?
YES! Seeing as we talked about Boston in this interview I wanna shout out some of the indie artists that really inspired me: Ju$mack – he just released his Cinco De Mayo EP featuring Mr.Fritz, StuLee, and MorShabazz (produced by MorShabazz) Jonny Silva Monolog a.k.a. U-Key
The Wreck Shop Movement.