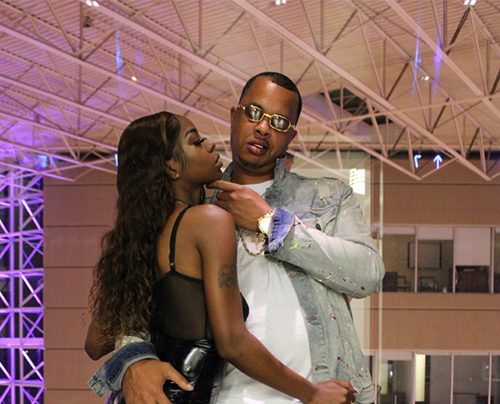 What was the earliest hip hop memory you can recall?
Earliest Hip Hop memory I recall is second grade. The school decided to include a talent show kinda thing but with just a few kids each week in assembly. My boy Keyshawn said, Yo lets rap cuz we used to be trying to rap in the bathroom and the school yard and swore we were dope. So we asked if we could go perform together. When it was our turn we spit our lil bars. No hook, God only knows how many bars was probably like 11 or something off then. I started to realize the whole assembly was kinda bopping to us. So we're feeling ourselves like we're doing Summer Jam or something. So even tho we had no clue what the other person was gonna say or do because it never crossed our mind to rehearse or anything we both bust the same 1980's official Run DMC "I just said the flyest ish ever" pose and the girls went craaaaaaazy. Teachers were clapping and right then and there I said, "THIS IS IT" and from the remainder of the year me and Keyshawn were the man for the rest of my time at the school.
What sets you apart from other hip-hop artists in today's music scene?
Polished. I make modern music but it's still HIP HOP. I have my own sound. I tell stories, you will laugh, you will cry, you will turn up. Every song is different. That's the main thing missing in the rap genre now. Originality from not just artist to artist but even within the artist individual catalogs. A lot of artists now almost sound like they are making the same song over and over on different beats and even then some artist beat selection is repetitive. I'm carving out my own lane.
When was it when you realized that rapping was for you?
Back in the second grade the day I spoke about in my earliest HIP HOP moment.
Where did your moniker originate, Lex the Don?
My boy back in the day in Brooklyn was always saying I was like Lex Luther from Superman and so I just owned it. When I first started hustling back in the days and started my own crew I added the don and the rest was history
Has this Corona Virus interfered with your music push?
Absolutely. Studio blocks were canceled due to quarantine which delayed two promo tracks I have, one with Rick Ross and one with Boosie Badass and I passed on a few performance opportunities due to Covid concerns.
What do you hope new listeners take away from your new single "Elevator"?
I wanted to give the people something sexy they could vibe to. That song was actually inspired by a show I did in NYC at Amazura Night Club in Jamaica, Queens with DeJ Loaf.
Any new music we can expect for the rest of 2020?
Oh yeah. I'm going hard for the next 18 months. I got the video for Elevator and my follow up single Envy dropping before the new year. Then its pedal to the floor all of 2021. Look out for "Want it All" ft. Boosie and I got a hot mixtape joint with Rick Ross coming soon.
Did you vote this year?
Absolutely. I feel like it's my duty as a black man in America if for no other reason but for my eternal respect for the struggle and sacrifices made just for me to even have the right to vote.
Any advice for new indie artists who are considering becoming a rapper?
Carve out your own lane. Don't break your neck to get invited to the cool kids table. Make your table the cool kids table.
Drop all your links.
FACEBOOK: @mrceolexthedon
Instagram: @lexthedontbt
Twitter: @TBT_Ent
https://lexthedon.hearnow.com/elevator
https://lexthedon.hearnow.com/envy
https://lexthedon.hearnow.com/baddest-girl