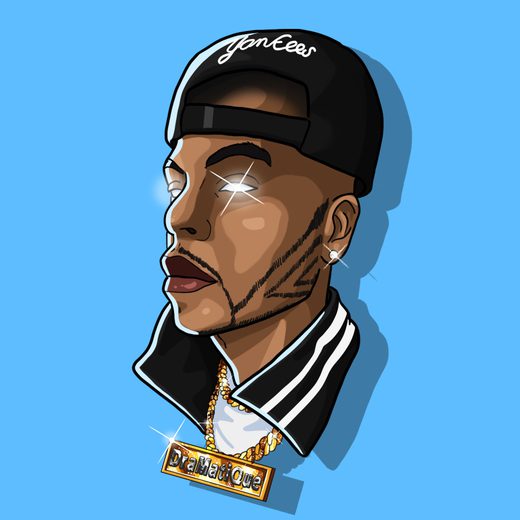 Yo DraMatiQue, let me ask you how long have you been a Hip Hop artist?
As a serious professional artist since 2001….but I definitely started rapping as a hobby in the late 90's.
How has your city influenced your Hip Hop career!
It has definitely broadened my scope artistically speaking. Sacramento, California ( Bay Area ) has both an underground and mainstream scene which has allowed me to experience both spectrums as an artist. As a result I'm not afraid to take creative risks while crafting my own style & sound. Which is pretty wild since I started out as an underground East Coast/Midwest backpack style rapper.
Also, how did you get you emcee name?
One of my best friends since jr. high actually gave me the name. Everyone around me insist I have always been "dramatic" with an extreme, over the top persona…lol…so I suppose it does fit me. I have always been unique so I came up with the different spelling which is actually the french version of the word. Ironically my great great maternal grandfather was French too.
How are you dealing with this whole nationwide lockdown due to Covid-19 Corona Virus? Has this effected your music career in any way?
I am dealing with it and trying to adapt like everyone else in the world. I has definitely been challenging in alot of unexpected ways. It has impacted my music career positively overall. I had taken an indefinitely hiatus from music for the past 5 years. The pandemic prompted me to re-evaluate everything and reminded of why I love to create music in the first place. So its been motivation to finish what I started and have fun along the way.
Your latest album "Millionaire" Please breakdown the creative process behind it?
This album definitely took a bit longer to put out than originally anticipated. I was signed to an indie label in the bay area and we ended up parting ways while in the midst of this project. The unfinished album was basically shelved until I was able to regain the distribution rights and release the album on my own independent record label. Creatively speaking "Millionaire" is a culimination of the hard work and dedication to my craft and it represents my vision of success while staying true to the classic elements of the hip-hop artform. I blended different styles and experimented somewhat within a structured musical enviornment. The results were solid and I am proud of the album. However I do realize it was creatively "safe" so the follow up album I am currently working on is a bit more contemporary yet also edgier and unpredictable.
How do you go about writing and producing your material? What type of mood are you usually in when making music?
I write all of my own material so I always start with the production. Once I have the beat/music and listen to it repeatedly in headphones…then I am able to write the song. Its a very organic process that just happens whenever I put pencil to paper. After rehearsing the song intently I will go to the studio to record multiple takes. I am the executive producer of all my projects and also a production engineer so I actually choose to do all of the editing, arrangement, and effects for every track I record. I generate a premix then the track is sent off to be professionally mixed and mastered. I have a small team of trusted engineers/producers I work but I am definitely "hands on" during the entire process with my music. I can be in any mood and make quality hip-hop music.
Are you voting this year?
Yes…most definitely!!!! I have received my mail in ballot and will be filling it out. The first time I ever voted was for Obama in 2008. We are in the midst of historic times with a new Civils Right Movements and this election is beyond crucial.
What is your favorite social platform?
Twitter. Its great for promotion and I like to tweet like all the other celebrities…lol. Of course instagram and facebook are good too.
With this being IndieHipHop.com, we always ask this important question. What is your definition of true "independent hip hop"?
I think independent hip-hop is when the music is based off artistic originality and creativity and NOT dictated by record sales and mainstream influence/culture. In this digital age of streaming, an artist nowadays is better off going indie than signing to a major label. Rappers like TechN9ne, Macklemore and Chance that Rapper have proven that already in the past few years. That has inspired me to ensure I have ownership of my masters and enjoy the creative/financial independence without a major label. Plus the music industry is flooded with copycat artists that specialize in mumble rap and an overdose of autotune but I think the hip-hop audience is slowly starting to crave something else.
Where can people find you on the Internet? Drop all the vital links.
www.facebook.com/dramati2ue
www.instagram.com/dramati2ue
www.twitter.com/dramati2ue
www.youtube.com/dramati2ue
www.ourstage.com/epk/dramati2ue
www.soundcloud.com/dramatique
www.reverbnation.com/dramatique
https://itsmyurls.com/dramatique
Any shout outs?
Shoutouts to my day 1's & day 2's and all the loyal fans who have supported me along the way.