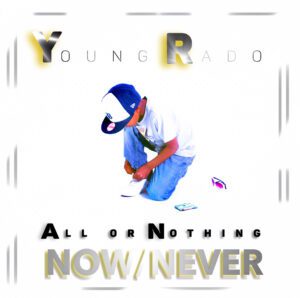 Young Rado announces the release of his third album titled 'All or Nothing Now or Never' with production from Dopeboyz, Tone Jonez, Dreamlife, and Corbett. The 14-track project features L Hussle, Tone Jonez, 3 Ball, Luther Squeak Jackson, and Fudge Brown.
The eclectic emcee delivers a captivating multi-genre fused album, with no two tracks alike from rhymes to production. The canvas is painted with witty punchlines, storytelling, jewel dropping, and infectious hooks with the perfect blend of classic and trap cadences.
Intro sets the tone for the album and invites listeners into Young Rado's realm and mind, where an emcee with unlimited bars stampedes. This lyrical stampede will pulsate through ears around the world. L.R is the Label piggybacks off Intro. In this track, Rado declares winning, with bags and charts as his only option. No matter what or who is in the way, he won't' be defeated by losses or falls.
The underlining theme throughout the album is Rado's ability to stay focused on the prize, this is evident in Takeover. He will push until his last breath for a worldwide takeover. His empowering lyrics define a plan to turn rhymes into bags. I'm the Truth, is a bit more aggressive in delivery, however, it depicts what separates Young Rado from the rest, on and off the mic. The electrifying tones reinforce his stance and message. No Apologies follows, declaring just that. Rado was born for the mic and will go to war for the mic. He holds no bars to share his savage side when it comes to claiming his spot.
Rado switches the flow and vibe up in Party Till the A.M. He's feeling high without any drugs and ready to turn up the lights, wave his hands around, and sway to the dance floor. The soulful piano keys in Tonight (part 2) continue the party and will trigger feet for some two-stepping. Young Rado doesn't stop there, he goes on to heighten the mood for the ladies. He vividly describes the type of woman he needs by his side in I Need. The type of woman who is a boss chick yet a teammate and a woman who can give good loving with an unbreakable bond. In My Girl, Rado takes it back to New Edition days and expresses his love through raw emotion.
Cadillac Music circles back to grind and success with a reminder that sometimes with growth those once close to us fall to the waist side. That won't' stop Young Rado from turning the music on and moving forward. There is back to back jewel dropping in Make Sense, positive jewels about winning, life lessons, and handling business. Through it all there will be some love and some hate, but regardless the horns emphasize the power to walk with a head held high.
The last three tracks embody who Young Rado is, his expectations, and his gratitude. Magic defines his reign as an independent artist with an incomparable lyrical potency. The bass and drums in Day Dream allow listeners to embrace Rado's mission to manifest music into a bountiful reality, no more aching bones from a 9-5 with no days off. First Time will raise neck hairs and send chills while Rado is reaching for the stars. Although he hasn't reached them just yet, they are in sight. As the last track of the album, he reminds us to live our lives and live today as if it was our first.
Connect with Young Rado
Instagram link: https://www.instagram.com/young_rado_the_godfather/
Twitter link: https://mobile.twitter.com/youngradomusic
Facebook link: https://m.facebook.com/youngradomusicgroup