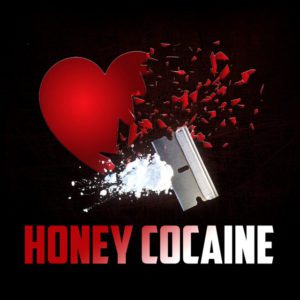 Shameless Plug is back with yet another EP release titled 'Honey Cocaine'.  If the title isn't enough to entice listeners in, the 7 tracks of verbal stimulation will.
The Brooklyn thoroughbred steps out of his gritty, hardcore shell and revels in lust, love, and the addictive moves of fine women.  In "Kitty Up" Plug commands playtime to reach pleasurable levels of erotica, in other words, ladies step up your 'kitty' game. "Private Dancer" is an explicit tale of how curves and intriguing allure of women overwhelm and arouse Plug's physical and mental state.
"Standby" switches up the vibe a bit with Plug letting past desires and flings know they're on standby. Now that he's taking over the boroughs of NY and cashing in on industry checks, thirsty chicks are sweating and chasing his every move. Not entertained, Plug leaves them on standby. In "Poof Be Bone" he sends out a similar message but this one is not just for the females. He's calling out everyone who's clout chasing and coattail riding in attempts to rob his stance.
"Delete" is a soulful, lyrical serenade about loving a divine goddess down. The sensual flow and horns magnify Plug's vivid devise. She might just be the one to have him delete numbers off his phone.  "Mitchmatch" is an all too familiar reality of an artist in a relationship with a woman who loves when he's home but hates when he leaves. The dilemma is real but rarely talked about in the industry, which leads to "Royalty". Plug embodies the ups and downs of relationships and the ongoing debate and often the ongoing back and forth tennis match of breaking up to make up.
Overall, Shameless Plug delivers an EP that can be embraced by multi-genre listeners while exceeding expectations from his fans. He reigns as an eclectic and consistent wordsmith with a natural talent for curating timeless gems. Stream 'Honey Cocaine' and connect with Shameless Plug below.
Shameless Plug 'Honey Cocaine' EP on Spotify
Shameless Plug- Instagram @Shamelessp5050 & Twitter @Shameless_Plug