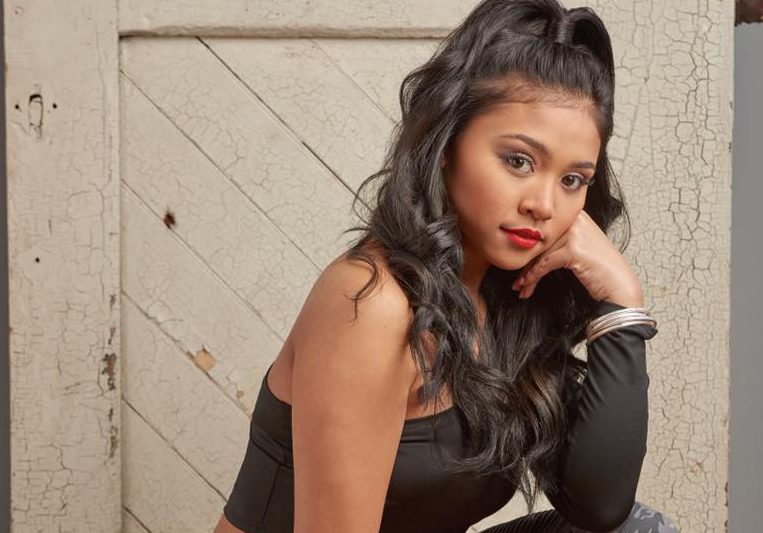 We are extremely excited to have featured your latest single "Bluff", being a singer we never of heard before this, please tell us who is Ciana Pelekai? Where part of Hawaii are you from? How/When did you start making music?
Aloha, my name is Ciana Pelekai. I am an 18 year old who was born and raised in the state of Hawaii. I am from the west side of Oahu, which is Waianae. It is very beautiful and everyone is very kind to one another. We treat each other like we are family. On the other hand, I started singing at the age of 4 and started taking vocal lessons at the age of 6. The reason why I started becoming very passionate about my music, is because my sister would perform around the state & watching her entertain everyone and make them enjoy their time, motivated me to be exactly like her. Now I'm here singing and pursing it!
Its funny how when I first heard you and saw the new video, I would not guess you were Hawaiian! Hawaii has always gave off a certain style and sound of music, more cultural and traditional music. Clearly as I can see, you have been able to break that stereotype and jump right into the popular pop-singer alternative scene! Ler us know how you feel about that?
To start off, Hawaii is very into their Hawaiian culture and their traditions. Til this day, I still sing Hawaiian local songs at some of my performances. It's always nice to give back to Hawaii and represent the state the best I can. "Remember where you came from!" However, since I am a pop/r&b singer it is very different from our Hawaiian music. I believe that yes Hawaii people are in to our traditional music, but on the other hand we always support those who are willing to succeed and become very passionate about a certain genre. For example, Bruno Mars. He is from Hawaii, he isn't Hawaiian.. but he is an r&b/pop singer. He shows the different varieties of music, and Hawaii is very supportive of him and proud.
We notice your style is super original and very creative. Let us know how your style is different than all the young singers out there!
For my style, I try to give out more of a sassy kinda vibe. (I am not a sassy person lol) it's more when I perform, I try to show off some of my body to make my style stand out as an artist!
Please breakdown the creative process behind your new single "Bluff"
I've had many people help me through the process of my new single "Bluff" and it was a success!! We thought Bluff would be amazing because a lot of teens, adults or anyone can relate because someone will always have something to Bluff about. I've had my management team Jon-Tonz Music Group direct most of the projects & help come up with new ideas. My song writer Rachael Hendricks, who is phenomenal at what she does. Lastly, of course my producers Drawzilla and Tytan music for producing my single in their studio.
Do you remember the day/time when you realized you wanted to become an singer? Was there and special person in your life that influenced you to become an singer?
That special someone who actually inspired me to become a singer was my sister. When I was just a little girl, I would be the little sister who follows the oldest to all her performances or auditions. Watching her go on stage and hear the crowds cheering or singing a long, also giving her that spotlight moment gave me thoughts about myself. Watching her performances motivated me and encouraged me to be exactly like her, so I started singing at 4 and took vocal lessons at 6. Now I'm here singing and pursing it, but my sister and I sing different genres.
How does social media play a role in your success? How are fans/supporters helping your movement?
Social media is very impactful in our society today. I believe it does help artists become very successful. I sometimes rely on social media, because for example I use Instagram as an outlet. I post all my singing videos and use many hashtags, which actually helps me get Noticed as a singer. With all my followers and fans, they are the best. They are very supportive through my singing career and always commenting on my post! So thank you to them!
Your TOP 5 singers….Deal or Alive?
Bruno Mars
Beyonce
Etta James
Christina Aguilera
Aretha Franklin
With this being an underground hip hop site, we always ask this important question. What is your definition of "independent"?
I believe being independent is someone who isn't afraid to try something new no matter how many times they fail. There always so many opportunities for them but they don't let fear get in their way. Being strong minded and driven to their goal
Where can people find you on the Internet? Drop all the vital links.
Instagram : @officiallyciana
Twitter: cianapelekai10
Website: www.cianapelekai.com
Lastly, and shout out?
First off, my management team Jon-tonz Music Group for discovering me as an artist and giving me many opportunities. My producers Drawzilla and Tytan music for producing my music in your studio. My song writer Rachael Hendricks for creating amazing songs and music! To my promoter Michael Cash, for helping me out with all my promotional projects. Also, Hawaii for giving me this unforgettable support throughout my singing career. I will always try to represent Hawaii the best I can. Most importantly my parents. They have been very supportive through everything I have participated in or wanted to do throughout my life. They were always willing to let me try new things and I'm very thankful for everything they have done! Lastly, the rest of my ohana (family) for their overwhelming support and for being their every step of the way.