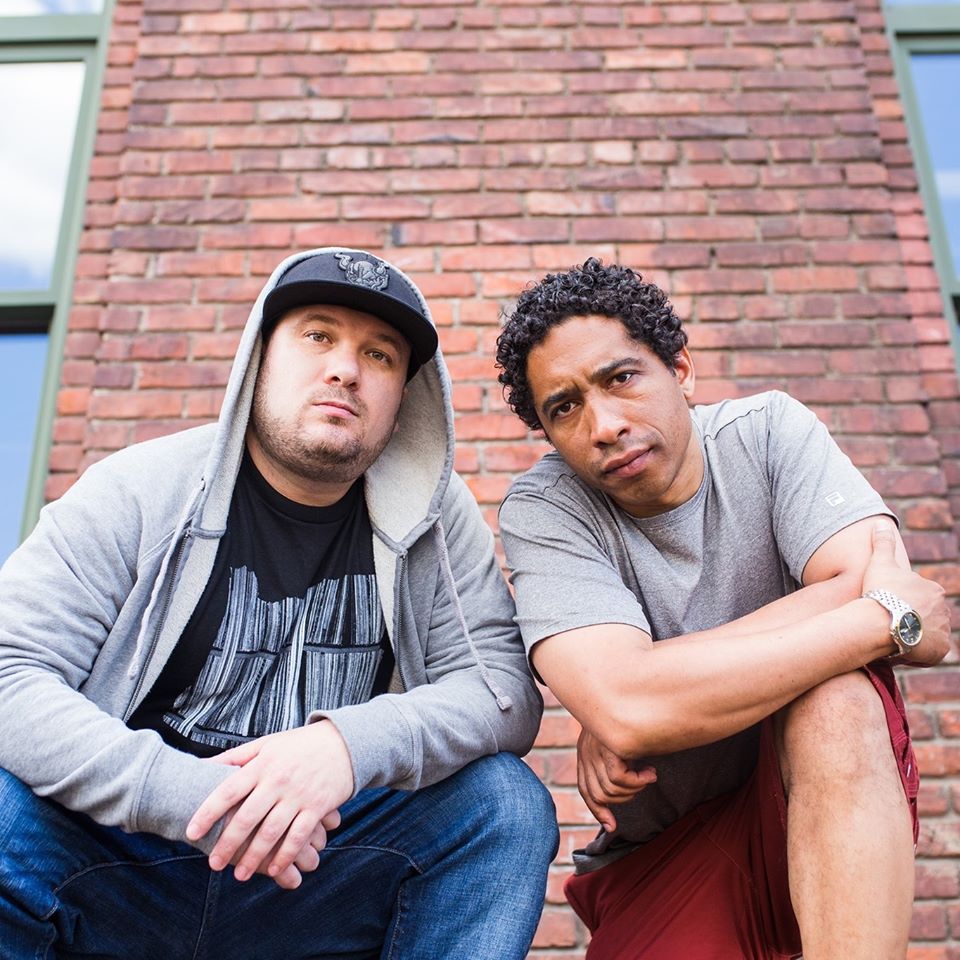 Please tell us how many years have you guys been making music?
Since the early 2000s.
Where are you from?
Oregon. We came up in Southern Oregon then moved to Portland. TravisT is still in Portland. Courage is currently in Corvallis.
Most importantly, how did you guys meet?
We met at a concert where both of us were performing with different groups. We ended up doing a short set together and have been working together ever since.
What separates you guys from all the other up and coming MC's and groups?
The message and the writing quality are the most important things for us. We focus on a lot of social and political messages. We also incorporate a lot of live instruments into our beats, and we perform with a live band.
You guys are extremely original and really put out a modern Boom Bap sound and style!!! Please tell us how you guys describe your sound?
Thank you. We've been told that we have an old school, throwback sound. We don't necessarily set out for it to be that way, but that's the style of hip hop we grew up on and the stuff that we tend to gravitate towards. Even though we don't use many samples these days, we still like the melodic instruments and drums from the golden era. It's also always been important for us to include scratching and keep the art of turntablism alive.
How are you guys coping with this whole Covid 19 situation? Has it delayed any new music production by any chance?
We are just taking it day by day. It's very surreal times right now, but we try to cling to anything positive that we can. Fortunately, we had the album all wrapped up before Covid-19 hit, but it did lead to us having to cancel our album release party and kill any subsequent plans for a supporting tour. We just remind ourselves that things could be worse.
Tell us about your Hip Hop and/or music influences?
TRAVIST :I grew up with a family that had pretty diverse musical tastes, but I was drawn to hip hop at a young age. I remember hearing the likes of Public Enemy, A Tribe Called Quest, De La Soul and others and being floored. I also grew up during the G-Funk era and couldn't get enough of it. We have both always been pretty big Wu-Tang heads too. I wouldn't say we pattern our style after any particular artists.
COURAGE: Some of my major influences include Killarmy, Promoe, Looptroop Rockers, Outkast, Goodie Mob, and The Coup. We both are fans of live band hip hop like The Roots. A solid album to me has always been one that helped broaden my perspective or offered some fresh insight.
Please breakdown the creative process of your new album "Fuel For A Food's Errand." Tell us a little about the album cover!
The album took about three years and included roughly 25 musicians, singers, and rappers. We work very closely with our producer, SmokeM2D6, to get the sound we were going for. We took our time to craft this album into something that lives up to our standards and a lot of songs didn't make the cut. We've always been critical of our government and aimed to examine the world. We wanted to do something provocative with the album cover that could be open for interpretation. We came up with the design and then took it to our graphic designer who knocked it out of the park.
Your honest opinion, out of all the songs on the project, which is the one song you guys feel stands out the most!?
TRAVIST: We have got pretty good response from "Like This" which is probably one of the more accessible tracks, but I'm more proud of the stuff with deeper content. Songs like "Bad News Bearers" and "Dollarticians" are pretty pertinent to what is going on right now.
COURAGE: Bird's Eye Coup and Breathe are my favorite tracks.
Rappers nowadays think by throwing up a few videos up on social media and pushing quick projects, they can blow up overnight! Give us your view on how over saturated the market is right now with so many MC's/Producers but not too much quality music.
We think it's great that it has been easy for anyone to record and distribute music these days, but as you mentioned, it does make things saturated and a little harder to get heard. We try to just focus on us and hope our music will find its audience.
We have to ask, with all this social discourse and revolt, protesting and rioting, exposed police brutality toward blacks and BLM, how do you guys feel about this? We would love your guys perspective on the climate we are living in right now?
This may be one of the most politically charged moments in our lifetime. On one hand it feels like we still have so far to go, but there are also a lot of signs of progress being made. I'm not sure what it is about this specific moment, but I think it is a culmination of things. For one, due to Coronavirus, a lot of people are off of work and/or restricted from many activities. I think the fact that social media being is more prevalent than ever has also galvanized things.
If it came down to 1 ALBUM only, what underground/independent Hip Hop album would you guys consider THE BEST OF ALL TIME!!!???……One 1 album you can choose.
TRAVIST: Oh man… you stumped me. I can't do absolute favorites. I will say that when it comes to independent and underground hip hop, Rawkus and Rhymesayers had a pretty big impact on me. I was already pretty deep into Wu Tang at that time, but then I realized there is this whole other rabbit hole of raw, underground hip hop to be discovered. I listened to Blackstar and Aesop Rock on repeat.
COURGE: Government Music by Promoe.
Where can people find you on the web? Drop all the vital links.
Official Website: www.easternsunz.com
Facebook: www.facebook.com/easternsunz
Instagram: www.instagram.com/easternsunz
Twitter: www.twitter.com/easternsunz
Spotify: https://open.spotify.com/artist/6M8CdrHPHrFG1WvYxMNxE3
Apple Music: https://music.apple.com/gb/artist/eastern-sunz/263856423