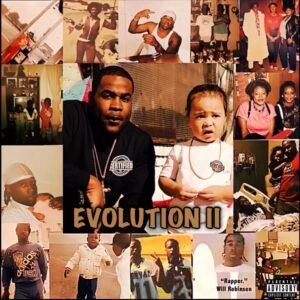 Chill Will Da Don is an underground titan who's been building his profile since 2016. With an array of solid releases like "Nostalgia: Certified Classic" and "Stockton & Malone", Will has become respected and praised by thousands. Trying to expand on this success, his new album "Evolution II" was created to be his most impactful release to date. With waves of pressure on him, can Chill Will Da Don create his defining record?
Conscious, forward-thinking, and perseverant are three of the words that best sum up Chill Will's performance. From the "Micheal Corleone" intro to "Paid in Full II, there is so much relevant commentary sprinkled all over. Topping his coherent song writing, his avid delivery make each song feel ambient and unique. "92 Starter Jacket" is a prime example of this as his weary tone talks about riots going on in LA in a satirical manner. Furthering this, other moments like the hopeless "My Life", endeavoring "Late Night Music", and the intense "Cut tha Check" continue to display the many different styles he is a master at. "Henny Nights" was a definite standout as its personal lyrics feel like a beautifully done painful cry for help. Contouring these deep cuts,"Rap-a-Lot" and "Mr.T" serve as solid bangers that could possibly blow this record onto the charts. After finding its identity with these songs, the rest of the record thrives at diving into the deepest thoughts of Chill Will Da Don. From painting his life on "3 in da Mornin Interlude", talking about pain on "Battlefield" or boasting about his clout on the fun "Bag Talk" songs like these personalize Will. Seeing him turn from another street philosopher to someone you know and root for, Will easily captures peoples hearts. Walking away from the record, Chill Will Da Don's versatile and breathtaking performance will make all listeners question everything they once believed. 
Sonically, Chill Will Da Don shows he is a  die-hard music fan as he pays homage to legends who paved the way before him. Whether he's honoring Roy Ayers on "My Life" or talking about Biggie Smalls, Nipsey Hussle, and other fallen legends, it's clear Will is a true student of the game. Building on this, the rest of the soundtrack remains solid throughout. The only negative thing I can really point out would be on songs like "Reckless", "Mr.T" and "Bag Talk" as they all suffer from their generic trap beats. Still, "Henny Nights", "Paid In Full II", and "3 In Da Mornin Interlude" are a few of the tracks whose multilayered pallets outshine the album's flaws. "Certified Enterprise" was a definite standout as its western strings, shaking base, and vintage keyboard comes together epically. As a whole, the production on the album is solid at assisting Will Da Don's full vision. 
In conclusion, "Evolution II" is a great album that deserves alot of admiration. Chill Will Da Don is everything you want in an MC as he is skilled, smart, and enjoyable. The production is solid here, as it's filled with depth and intricateness. My only complaint with the record is that I wish was that some songs weren't as reliant on trap beats. Going forward, it seems like Chill Will Da Don will only go up from here, and if you want to stay updated with his career, follow @chill_double on Instagram!
Rating: 8/10
Highlights: Subject Matter, Songwriting, Vibes