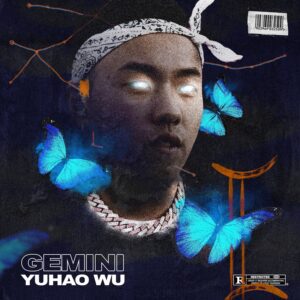 Yuhao Wu is an upcoming rapper from Pittsburgh, Pennsylvania. Since 2018, he has been building up a sizable fanbase due to the success of songs like "Payday" and "Pressures". After almost two years, he has finally released his debut album,"Gemini" on all streaming services. Will Yuhao Wu be able to make the personal statement he needs, or will he be the next rapper with a lousy debut?
Heart, emotion, and hunger are the three adjectives I would use to describe Yuaho Wu's performance here. From the theatrical intro "That's a Sign", we are introduced to his melodic style and personal songwriting. Cuts like "Butterflies and Summer Island" and "Balance" add to his character as we see his personal and carless side's clash. "Fantasy" is delightful in tone, but once listening to the lyrics, you can find the pain and torture Wu is suffering from. The self-titled track is one of the albums best as its empowering vocals make for a fun banger. The album's definite strong point is "Heavens Above", as we see Yuaho open up upon a racially motivated murder that sent him and his family into a complete disaster. Furthering the song, Yuhao talks about his race and how it effects him day to day. While his melodic singing is super enjoyable, I wish we saw more of Yuhao Wu's lyrical flare here.
Sonically, most of the record feels like your run of the mill trap album. With that stated, there's still a lot of upside when listening. From the spine tingling "Heavens Above" to the glamorous "Speedway", there's enough diversity to keep things interesting. While some of the trap cuts like "That's a Sign" and "Balenci" put an interesting spin on things, "Gemini" and "Hell No (Wait Outside)" are demonstrations of why this sub-genre has become so bland and lackluster. In summary, the record's soundscape is a little messy, but fortunately, it doesn't steer away from the album's overall narrative.
In conclusion, "Gemini" is a solid debut from Pittsburgh's newest talent. Yuhao Wu indeed has a lot going for him, I just wished he wasn't as afraid to show it here. Going forward, I hope he can find his own lane, and with that, I think he can truly thrive in this rap game. If you're like me and want to see where this talented up and comer goes next, be sure to follow @yuhaowu31 on Instagram!
Rating: 6/10
Highlights: Vibes, Production, Hits