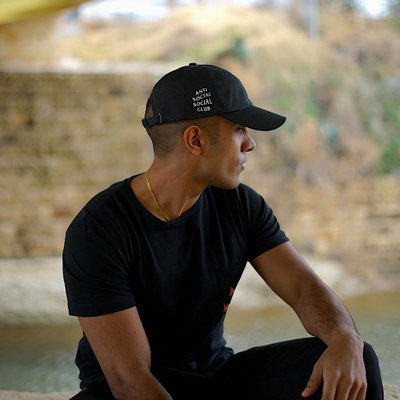 Whats Up Krish!! We really enjoyed your single "Can't Stop Me" !! One of our main contributors BOOM reviewed it and gave it 9/10!! Please tell us how you got started making Hip Hop?
I started off learning Indian Carnatic music at a young age influenced by my parents and their love for music. I discovered Kanye and Lil Wayne in the 8th grade and I instantly was in awe, wanting to make tracks like them. Progressed through A Capella at the University of Michigan and then decided to start producing, writing and singing/rapping my own stuff as soon as I graduated in 2017. Been wild ever since.
What area code do you represent!? Any local music influences!?
I represent the 734 – some slight gang shit. Born in Canton, MI and was very influenced by Detroit Rap but my personal favorite was when Big Sean was poppin off in 2011 when I was in eleventh grade. Shit was crazyyy, Finally Famous was my shit.
Tell us about the independent Hip Hop scene out there where you are from!?
While in Michigan I was focused on finishing school until I graduated. Had to check that off the bucket list. I immediately moved to Austin, TX after graduating in 2017 – Texas isn't lying when they say Austin is the live music capital of the world. Hip hop is growing mad here and I love being apart of it, especially with all the different genres of indie music. Only makes me more creative when I listen to the wide variety of talent.
Let's face it, social media since 2015 has grown tremendously, especially IG!!! Tell us how is your IG grind looking, and how have you been able to keep up with the high demand on social media?
I started my IG in early January of 2018 and have been grinding on it since tbh. Didnt believe in the BS of buying followers and organically grew my stuff through posting my singing videos and just quality content. Glad that real recognize real and people on IG show love fr.
Please breakdown the creative process to your single "Can't Stop Me"!
With the high amount of Indie hip hop artists putting out one song and hoping it blows up really irked me one day. The beauty of this is grinding imo is honing your talent and becoming the best part of myself – which inspired me to make Can't Stop Me. The haters, girls or thoughts that get in my way will be momentarily depressing but in the grand scheme of things doing what I love is more important than that.
How often do you perform live?? Any indie DIY tours in the works?
Since coming to Austin I've honestly been a studio rat and haven't been performing but, rather, working on my craft. I have shows coming up in the summer that I'm excited about to unveil my new projects. I love performing for people so I can't wait for it, especially since that's how I actually started (with Carnatic music in Michigan when I was 8).
How do you feel about the whole XAN & LEAN trend these kids nowadays are on!!!..LOL??? Be honest, do you use some of that stuff??..LOL
Nah I'm honestly not about that shit, I've only seen bad things come of it. I don't mind when people do them but overdoing them is the worst, hate to see that happen to some of the most talented artists out there.
What you got cooking next? Anything special for 2018!!??
I'm releasing a song tomorrow (Thursday June 13th) actually called 'Cruisin' on Soundcloud and think it's a banger. Got the beat through connections with 2ndRoofMusic out of Milan, Italy and made heat. Super excited for it to drop. I also dropped 'Ride With Me' a month ago and has since racked up 15k plays on SoundCloud which I'm super proud of.
Our most popular question, what is your definition of true INDEPENDENT HIP HOP"?
Independent hip hop, in my opinion, is when the artist grinds 24/7 to make his dream a reality. Whether that be building my own brand, making music, networking etc. We don't start off with any help from a label and grind to the top.
Where can fans find your music? Drop all links!!
Any Shout Outs??
Shoutout to the A2 family from college that made me believe in my music: Perz, BA, Jojo, Hez, Crowley, Binky, Sharath. Day ones fr