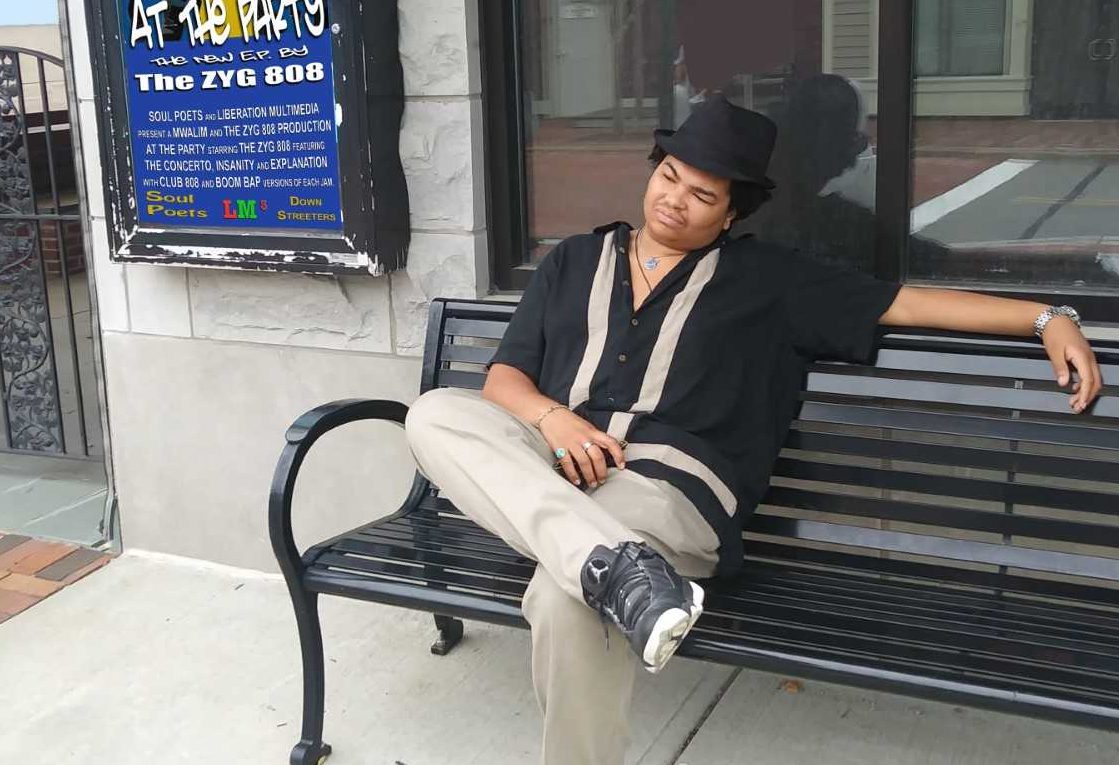 Hey ZYG 808! We appreciate and love your new cutting edge Hip Hop sound coming out of the Massachusetts area. Please tell us how many years have you been making music? What part of Massachusetts are you from?
What's Good? I was actually born in the Bronx, but I grew up on the Southcoast, New Bedford and Mashpee. I'm originally a drummer and I started playing in the womb… seriously, my Pop would tap on my mother's belly and I was told that I would tap back. When I was little I would play on his hand drums and keyboard. When I was four I got a drum set for Christmas… one of those First Act kits for little kids… when I was seven I played percussion on my Dad's album… when I was ten I got a real drum set, and at 11 I headlined the Boston Jazz Fest. My cousin JJ Nice got me into MCing when I was 13 and I got hooked. I already liked writing and telling stories and this gave me a new voice. The funny this is that when I was younger I hated poetry.
How are you being 100% original and different? What is separating you from all the other up and coming MC's coming out of Massachusetts scene.
For one thing, I've got love and respect for a lot of the MCs out of Massachusetts. What I add to the pantheon is the ability to rap and play drums at the same time. I also like playing around with different song forms and structures like Sonnets and jazz tunes. I'm also the percussionist and MC for a soul-funk band named The GroovaLottos, so I guess you could say that I bring a certain versatility to the game. A lot of cats my age are into mumbling and posing, I'm about articulation and rocking the party.
How do you describe your sound?
I call my style Hip-Hop Jazz because I fuse those elements in my flow and music. I'm very much a Boom Bap artist. While I like some trap beats, give me some funk or a raw drum beat and I'll spit for days. I also do straight up spoken-word at times. I get that from my Pops who was a part of the east coast poetry scene in the 90's and a playwright.
Tell us about your Hip Hop and/or music influences? Any local city hero's?
The MC scene is kinda spread out across the state, and there are a bunch of cats I absorbed and/or appreciate. Much love and respect for some of the legends of the game like Akrobatik, Ed O.G., Uno TheProphet, and Planet Patrol. I also appreciate some of my contemporaries like J.R. Native, Young $umo, Def Prince, and Joyner Lucas.
Please breakdown the creative process of your new E.P. 'At The Party'.
"At The Party" is the project where I developed my process so to speak, by flexing into my sound. "The Concerto" for example was a concept where I wanted to take three distinct verses… or 'movements' in the classical sense… and each verse would stylistically different. Also a concerto is a solo instrument over an ensemble. "Insanity" was a piece I wrote when I was thinking about all of the craziness folks are still going through under the racist double standards of this society. "Explanation" I wrote one day when I was feeling good. I would write the lyrics and figure out the beat on my drums. Before recording I always play my stuff out live and get it tight in front of audiences and get it on video for reference. In the warmer months I do busking which allows me to literally test my sound in the streets, if people stop to listen and a crowd forms, I know I've got it cooking. Then I take it into the studio. Working with Mwalim DaPhunkee Professor, we would always try a boom bap beat, which has more of an old school feel and a Club 808 beat which has more of a contemporary feel. Both styles are based on me playing the drums and building the sound around it. I have to admit, I like rocking live with a band a little better than the studio.
Your honest opinion, out of all the songs on the project, which is the one song you feel stands out the most!?
I would have to say the boom bap version of "Explanation" is the stand out. I play drums and vibes on that one. It also just has a punch to it.
Rappers nowadays think by throwing up a few videos up on social media and pushing quick projects, they can blow up overnight! Give us your view on how over saturated the market is right now with so many MC's/Producers but not to many quality music.
There is a big difference between the 'market' and the 'scene'. The scene is over saturated but the market is still as it is. Soundcloud and Youtube have some heads thinking their super-stars because their friends and family see and hear their stuff. Now when you get to the market, and see who's on Spotify or iTunes and whose videos are getting over a couple of hundred hits that's when we are talking market. The sad part is that there a lot of MCs with quality music and no marketing and a lot of crap with strong marketing. All this tells me is that as artists we have to be about business and take the time to learn about marketing and promotion, especially if we have a quality product. We have to know about building a team. Once upon a tie it was all about getting signed to a label, now you have to be the label. That was why I started Soul Poets Records and put as much focus on marketing and promotion as I do on being creative because there is so much stuff out there that you have to do what ever to stand out. You got people out there who are all marketing and their performance is garbage. That's why so many folks think hip-hop is dead. A lot of folks don't even realize there is a difference between being an MC and being a rapper, and a lot of rapper's music now-a-days isn't really hip-hop.
If it came down to 1 ALBUM only, what underground Hip Hop album would you consider THE BEST OF ALL TIME!!!???……One 1 album you can choose.
"Daytona" by Pusha T
Here it is! Our most popular question! What is your definition of "indie hip hop"?
To me Indie Hip Hop is the true keeper of that which was born on August 11 1973 in the Bronx, NY. Indie Hip-Hop is not about trends and artificial scenes created by the industry machine, it's the raw and real lyrics and beats. It's about making the music that speaks to you and finding the other heads who are feeling it too. Indie Hip Hop is the form that allows to go outside of the box that the industry tries to create sound and image-wise. It's not about trying to glamorize a criminal lifestyle and pipeline fans into prison, it's about rocking the mic, telling your story and spreading your vibe.
Where can people find you on the web? Drop all the vital links.
http://thezyg808.com
http://instagram.com/thezyg808
http://facebook.com/thezyg808
http://twitter.com/thezyg808
http://soundcloud.com/thezyg808
http://instagram.com/liberationm3
Lastly, and shout out?
Shout outs to Liberation Multimedia for giving me an opportunity and a home for my Soul Poets Records label; JJ Nice and TMK Squad out in Cali; my Mashpee crew, MC Slim, Young $umo, J.R. Native, Drippy Lay, Little Tap, Def Prince; The GroovaLottos, Eddie Ray, Mwalim DaPhunkee Professor, Richard; and my role models, J Cole, Rakim Allah, Big Daddy Kane, Pusha T, Hopsin, ATCQ; my music teachers, Andy Troyanos, Martin Vasquez; my people at Mashpee High School; and the squad at Area Twenty-Two, Bob, Chuck, and Mallory.