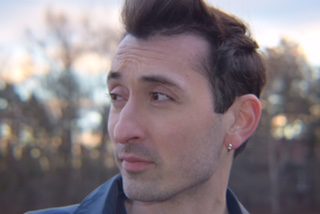 Hey Klokwize, we would like to thank you for your contribution to independent Hip Hop and keeping the culture alive! Your new album "DANGEROUS YOUTH" is impressive!!!
Thanks! I'm hype to chat, I read the site often.
Please tell us what exact area code you represent?
I was born and raised in Hartford Connecticut, the 860, and spent time as a 323-er in LA.
How long have you been making music? How did you come up with your emcee name?
I've been making music since the lunchroom in middle school, even before that my mom always played rhyming games with me as a little kid, I loved words.
The name just stuck, I remember being like 13 maybe and my friend said 'Glockwise' was a cool name and I heard him wrong and said 'Klokwize.' That felt like me, a little quirky, and everyone just started calling me Klok. It stuck instantly, how could I ever change it?
Music life has been good to me, I've gotten to work with heroes of mine, I've done co-writes with Suga Free, Pacewon, Doug Wimbish, ESPN Music, TV shows like Rising Star on Amazon Prime, and of course west coast folks probably know me for working alongside Uncle Dave Foreman and DJ Quik on songs like 'A Little Respect.' Those dudes changed my life.
What influenced you to become a Hip Hop artist? What were the main factors that got you into being an indie (independent) Hip Hop artist?
I always loved the rebellion of rap music, it seemed like the heir to punk music, which had gone pop by my generation. This hip hop shit was scaring my parents – wow that was hard to do! So obviously I was obsessed.
It just so happened I had the talent to match how much I loved it, and a lot of OGs showed me stuff and I listened. So at that point indie shit didn't scare me. Rolling out a record is rolling out a record, period. Same steps whether you are self-funded or signed. Indie is a word sometimes misunderstood. If I'm in the same stores and sometimes the same radio stations as these big machine-backed guys then what should we be afraid of? Raise hell. No rules. That's what indie gets you.
How important is it for you to stay ORIGINAL? How would you describe your style?
I don't even know how to not stand out on my own. I hear my own beat incessantly, I was always attracted to the contrary. What I'm doing now is running on the truth. All the stuff I was afraid to lay out there before. I like to think it's thoughtful and musical. I rap, sing, write, arrange, play, and bring in so many dope musicians and singers to cook these tracks up until they're absolutely perfect. These are positive songs and maybe messages we need in these particular times.
It can be important to follow the landscape of music and what is current, but you have to twist it and contort it and add to it. That's what has been moving culture forward all this time.
Tell us about the creative process for your new album "DANGEROUS YOUTH"!
Dangerous Youth's whole creation was really intimate and honest. The lyrics are about moving on from your past and finding a way to laugh at all the painful memories, all the zigs and zags in the road. A lot of reflection and jazzy sounds. Really organic to make, it was so easy because it was all so heartfelt and true, it just rolled off the page.
I have had the experience of doing albums in big, super fancy studios, but there's just a realness in the takes when I do them in a smaller space in my pajamas with a cigarette hanging out of my mouth. There just is, you can hear it, like, dripping out of these vocals.
I have some great mixing engineers so they spun the authenticity of it into a really electrifying, moody EP, and I think it grabs your attention. A lot of folks have told me it's the record they've been waiting for me to make. That's the best takeaway for me.
In 2019, who will be on your personal music rotation playlist!? Any new artists you are listening to?
I totally love Boogie's new album Everything For Sale, big fan of Anderson Paak, I'm always bumping guys from my neighborhood who are out there like Mike Flowz and Anoyd, and I love alternative music too for inspiration – the new stuff from Vampire Weekend, King Princess, and 1975 has been lit this year.
Any new projects and videos you are working on? Planning on a tour anytime soon?
We just put out some really epic, beautiful videos for the first 2 tracks from the EP, 'Mama Forgive Me' and 'Dangerous Youth', so go watch those. We are creating a world with the visuals, or maybe just pulling the curtain back on the world of those around me, it's real shit. We are continuing that visual sense for the whole EP with directors Bryan Michael Holcomb and Mirage Productions helping me out. You'll see more all year.
I just did a 10-city tour with JOATA over the winter and our live show is so fun, I bring a live drummer, backup singer, DJ cutting it up – whole band experience! And I like jumping around. A lot. Come out when you see us in your area.
The next project will be another 7-track like this. It's such a great, liberating, modern way to release music with more concept and theme. Shorter track lists, less filler, more cohesion. Thank you Kanye for starting that trend, ha ha.
Your TOP 5 artists in Hip Hop, Dead Or Alive??!!
So hard because there's a Rap Mount Rushmore honestly that is obvious – mine being 2Pac, Jay-Z, Nas, Kendrick, Scarface, but then the more personal list of taste I'd say is Mos Def, Joe Budden, Beanie Siegel, Redman, The Game, artists that I love for their grit that are underappreciated.
How did you come across our website?! Also, are you planning on being independent your whole career?
I'm an indie guy this is what I do! Had to have you guys on the radar and I'm glad you 'get it' and help so many great artists spread the word.
I've been in the major labels and I've been indie and the biggest thing I've learned is it will make zero difference if you don't have a plan and know exactly who you are. A clear vision and identity will win in this industry no matter what company puts it out.
Drop all your music and social media links!
Come by and say what's up at @Klokwize on everything, klokwize.net, and go add the new EP on your streaming app like Spotify, Apple etc right now! Right now go do it!
Any shout outs!?
Everyone who works on these records and all things WizeWorld, you know who you are, and most importantly the listeners who have been sticking with me over the years, I made this one for you