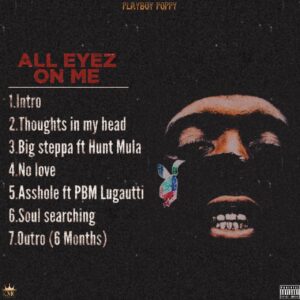 Playboy Poppy is an mc from Greenville, North Carolina, who has received a lot of attention due to his "Diary of a Playboy 2" project. Following it up, he has just released a new EP titled "All Eyez On Me". With such a quick follow up, is Poppy trying to ride out the success of his last project, or is he stepping into the next chapter of his promising career?
From the track "intro," we can see what makes Playboy Poppy such exceptional talent in the underground scene. His chaotic yet abrasive style may be overwhelming at first, but after giving it a chance, it is one of the most potent deliveries I have heard in a while. Following it up, the chaotic opener "Thoughts In My Head" shows a mellow version of Poppy as he ponders upon his fears. The next few songs, "Big steppa", "No Love", and "A*****e" build upon the previously addressed themes as Playboy continues to wear his emotions on his sleeve. "Soul Searching" differentiates itself as Poppy's delivery sounds slurred and remorseful, displaying the internal pain he is fighting. Closing the tape out, "6 Months" wraps up everything we just heard. While the emotion and delivery are there, I wish Poppy managed to switch up his style from track to track more often.
Sonically is where I think "All Eyez On Me" suffers the most. Outside of the breathtaking intro, each instrumental on the record follows a pretty similar pattern. From "Big steppa" to "6 Months", each cut contains a similar drum and base pattern, which results in everything feeling like a generic trap beat. Compared to his previous record, the depth and quality of the beats are not there, which can be extremely underwhelming and disappointing to fans and critics alike. Unfortunately, the poor sonic direction on the EP is exceptionally detrimental to it. 
In conclusion, "All Eyez On Me" starts off with a bang but gradually descends into a boring mess. I was disappointed as the excitement the first few tracks built up quickly fell apart as the record progressed. On the bright side, this is just an 18-minute EP and not a full-length release from this gifted young artist. Going forward, I hope Playboy Poppy keeps reinventing himself with more intuitive instrumentals, and with that, I think he will be able to achieve greatness in the hip hop world. Follow @playboy_poppy and @kingmusiccorp_official on Instagram to stay updated on this upcoming rappers journey!
Rating: 6/10
Highlights: Emotion, Delivery