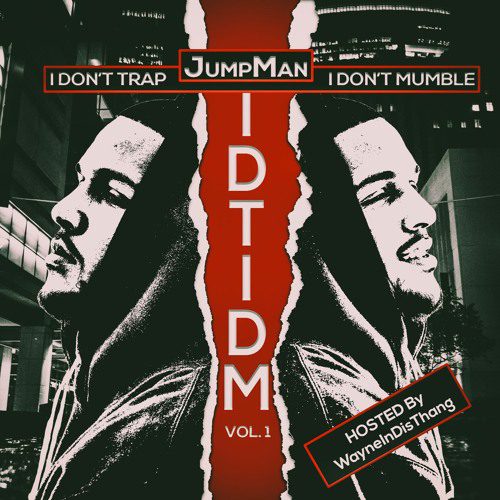 JumpMan is a rising artist from Houston Texas. After growing hot from singles such as "Follow Me", "Oral Stimulation" and "Neva 2 Late", fans have been waiting on Jumpman's newest mixtape "I Don't Trap I Don't Mumble". Evident in the title, JumpMan is a true wordsmith and anyone craving lyrical rap will be left more than satisfied
On top of creating intricate lyrical patterns, almost every single word which comes out of JumpMan's mouth has meaning. Wether he's talking about the current Corona Virus Pandemic or the tragic murder of the only 20 year old Pop Smoke, it's evident JumpMan is able to look at our world through a philosophical lenses. Adding to his arsenal, JumpMan is able to tell more personal stories on tracks like "L&S". Songs like these humanize JumpMan making him more relatable to the general public.
What truly completes "IDTIM" is its stellar production. The instrumentals are cohesive yet, offer a vast amount of styles from track to track. Some beats are more soulful such as "DONT LISTEN" while others are more drum and bass oriented like "Really". A small yet huge touch which ties the entire project together is the placement of news clips commentating the chaos of Corona Virus. Some may notice the track "MOMENT OF SILENCE" uses the instrumental from Nas's "The Word is Yours" and the track "L&S" uses the instrumental from Drake's "When To Say When" which samples Jay Z's classic hit "Song Cry". While it is great to see an upcoming rapper paying homage to some of hip hop's finest, it's hard to enjoy JumpMan's spin on it knowing there's better more Iconic versions which exist. As a whole, the production is well mixed and accessible to all listeners.
Overall, "I Don't Trap, I Don't Mumble" is a huge step in the right direction for JumpMan. His strong lyrical ability, quick flows and medium pitched voice reminds me of the legendary Andre 3000 and Dreamville's JID. The only thing I could wish for is that JumpMan can develop more of a unique sound which I am certain he will as he continues to blossom as an artist. Make sure you follow @iamJumpManOfficial.
Rating: 8/10
Highlights: Lyricism, relatability, production