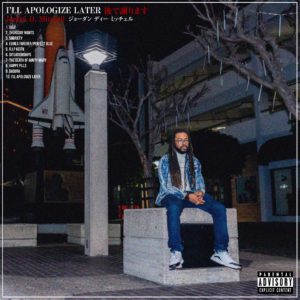 Jordan D. Mitchell has been establishing a name for himself all over California's underground hip hop scene since his 2017 debut "I'm Alone When The Moon Is Red".  Building upon his debut, Jordan differentiated himself from his contemporaries with humorous lyrics and abstract production, which was especially seen on his 2019 project, "Don't Touch My Danimals". Mitchell's newest album, "I'll Apologize Later" shows the latest step in his artistic and creative journey.
Mitchell's pen game on the album is certainly a mixed bag. While it is clear he is going for more witty and comedic bars most of the time, the corny jokes and one-liners tend to miss, leaving the listener confused about what they just heard. Other times, the writing and delivery seems dull, lazy and unfocused, which is seen on tracks like "Thursday Nights". On the contrary, the deeper cuts such as "R.I.P. Keith" and "The Death of Aunty Mary" shows Jordan's ability to recite and convey his emotional trauma with the best of them. Overall, Jordan shows glimpses of strong lyrical ability but tends to fail due to his lack of focus.
The production is where "I'll Apologize Later" truly shines. The instrumentals are constantly morphing and evolving, causing the audience to stay on the edge of their seat at all times. Mitchell also adds an abundant amount of vocal effects throughout the album which contributes to the chaotic sound he's trying to engulf the listener in. Another minor touch Jordan adds to enhance the listening experience is the placement of various voicemails and conversation skits between tracks which never feel forced and always cater to the song's message. The production is very dynamic as it uses an array of sounds and styles ranging from jazz to boom-bap. Jordan D. Mitchell's vast production on this project offers something for everyone.
In summary, "I'll Apologize Later" is an enjoyable album, but it has its fair share of flaws. Jordan D. Mitchell is certainly a talented artist but unfortunately, he just seems to hit under his weight on most of the album. With that being said, Mitchell has loads of potential and I'm super excited to see what he will do in the future. His experimental style and sonic versatility remind me of JPEGMAFIA and Denzel Curry. Make sure to follow @itsjordanbreh so you can see what he has in store for the future!
Rating: 6/10
Highlights: Production, Humor, Versatility