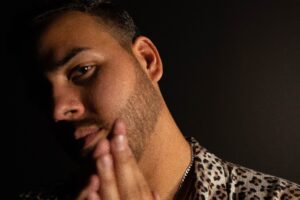 Warm and comforting, BrotherBeatz will wrap you up in cozy melodies and smooth rhythms. Light and easy-going, you'll settle into his soft blanket of sound, hand-woven and layered with sonic complexity. Drawing audiences in with alluring hooks, his music is meticulously designed to create a rich pallet of sound.
BrotherBeatz discovered music early on, and ever since elementary school, he has gravitated toward it. Mesmerized by learning instruments like the recorder, BrotherBeatz began following this passion. In high school, he auditioned in San Antonio for Crossmen, a world-class, competing drum corps and accepted at age 15 as a trumpet player. BrotherBeatz held his own, performing alongside the best of the best. Specializing in performance study, he went on to major in the music program at Texas A&M. His education in music sets him apart from other artists. While many rappers focus on the drums in their tracks, BrotherBeatz brings a strong melody to the forefront of his songs.
Over the course of his career, BrotherBeatz developed his own niche and shaping his style from a collection of interests. Texas-raised, he enjoys a bit of that good ol' country sound, but the music he creates is primarily focused on a trap rap style. BrotherBeatz appreciates artists who come from a production background, and he takes a similar approach when developing his own beats. Working behind the scenes, he elevates tracks to a different level sonically, creating a well-rounded auditory experience.
Writing from emotion, his songs stand on their own—genuine, organic, and pure. BrotherBeatz allows his sound to wash over listeners, leaving it open for them to find their own meaning in the work. BrotherBeatz is building momentum adding to his catalog and collaborating with A-game artists in the industry.
Connect with BrotherBeatz on IG @thebrotherbeatz