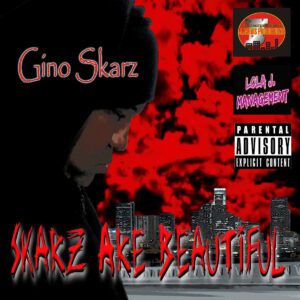 GINO SKARZ is an independent hip hop mogul in every sense of the word. Rapping, producing, designing, managing, and running Stratagetik Recordz just scratches his resume's surface. His newest venture has led to the release of his sixth album, "Skarz Are Beautiful". With so much on his plate, will GINO be able to settle down and create a cohesive body of work?
Lyrically, GINO SKARZ shows that he can go against 99% of rappers today. Opening up with the intense "In Tha Trenchez" we see Gino take an introspective look into his career and come up. "On Some Other Shit" and "Beast Mode" continue to turn things up as Skarz flexes his accomplishments. One of my favorite elements on the record is Gino's emotional integrity. Cuts like "Mentally Scarred" and "If Dogz Could Fly" make this seasoned artist feel like a compelling, relatable figure as his subject matter connects with the everyday person. Expanding upon his character, Gino shows he still has love and empathy for those stuck in poverty on songs like "Still Got Problemz" and "Love Ya Hard Timez". "To Kill A Butterfly" was a definite standout as it depicts the process of how our society takes down and destroys the dreamers and free thinkers. The project's final leg contains some of the best material in "Starved To Eat" and "Count Ya Blessinz". While some albums have dragged out endings, Gino ends up making every moment count on his 24 song tracklist.
Behind the boards, GINO SKARZ puts together a solid soundtrack, which strengthens his thoughts and ideas. While I would classify each instrumental used here as modern boom-bap, each cut sounds diverse and conveys a different emotion. From the reflective "Humble Ya Self" to the energetic "On Some Other Shit", there is something to satisfy any hardcore hip hop ear listening. "Still Got Problemz" was a nice change of pace on the record as its laid back piano sampled instrumental reminded me of something Nas or Mobb Deep would rap over in the 90s. "Who Am I" was another one of my favorites as its cold piano fused with hard-hitting drums creates an unsettling balance of emotion. As a whole, the production on the LP is versatile and intricate.
In conclusion, "Skarz Are Beautiful" manages to be cohesive while bringing light upon various stories and lessons. On the record, GINO SKARZ proves he is a competent lyricist who can string a series of powerful words and thoughts together. Additionally, the intricately crafted production emphasizes and strengthens every single word he excretes. In the future, I hope Gino continues to put out quality music and expand on his ever-growing label!
Rating: 9/10
Highlights: Lyricism, Production, Relatability
Subscribe To IndieHipHop.com
#1 Independent Hip Hop Site Worldwide
Get the most important stories in Indie Hip Hop straight to your inbox!